Newly appointed Minister Nguyen Hong Dien on April 12 more than once mentioned the spirit of "making every effort" and "learning with humility" at a conference on implementing the Party and State's resolutions on personnel work.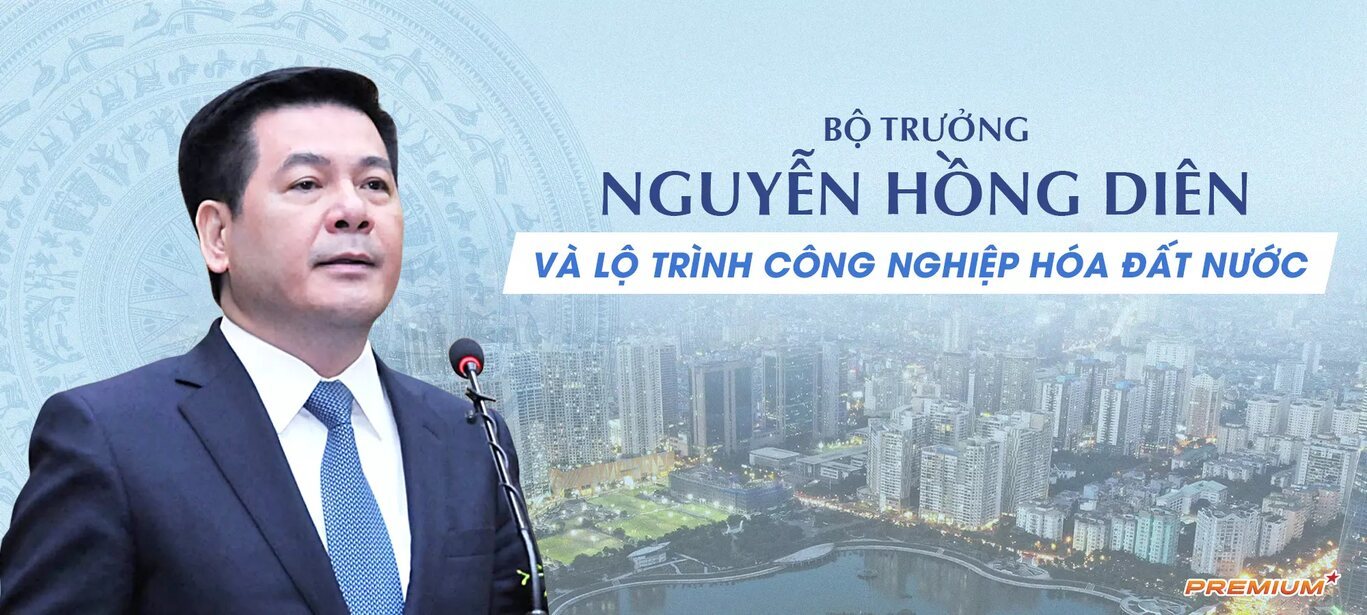 Minister of Industry and Trade Nguyen Hong Dien
"I am deeply aware that Ministry of Industry and Trade (MOIT) has a multi-disciplinary and multi-sector state management function, covering most key fields of the national economy," Dien said.
Noting that MOIT was created from a merger of many ministries and ministry-level agencies 15 years ago, he said that very few ministers are proficient in all the fields they are assigned to manage.
Dien, who has held important positions in Thai Binh in the last 30 years and has a lot of experience in management, said there will be difficulties in the first days for the post of MOIT Minister.
Instead of implementing the Party and State's policies in a locality, Dien now will undertake a more important task – designing laws and policies for the development of the industry and trade sectors, and the country.
This will be a very difficult task which requires vision, determination and the action of many people, especially from leadership positions in which Dien plays an important role.
Vietnam aims to become a developed country with high income by 2045 and in order to reach that goal, it needs to map out a route for industrial development that which clarifies responsibilities and concrete actions to avoid repeating the mistakes of the 2020 industrialization-modernization program.
Achievements
Dien has taken over at a time when many achievements have occurred in industry. Vietnam's global competitiveness index in industry jumped from the 58th position in 2015 UNIDO (United Nations Industrial Development Organization) ranking to 42nd in 2019.
Many large corporations have appeared recently, including VinFast, Thaco and Thanh Cong in the automobile industry, while hundreds of renewable energy projects with high capacity have been licensed.
However, these names cannot match foreign rivals who not only dominate the automobile industry but other industries as well, especially processing and manufacturing.
The proportion of the industry and construction sector in GDP increased only slightly from 37.9 percent in 2016 to 38.8 percent in 2020, which indicates slow improvement.
Tran Tuan Anh, Dien's predecessor, managed to cut 880 business conditions and signed four next-generation free trade agreements (FTAs) that will help bring Vietnam's products to 230 markets worldwide.
Lessons from 2020 industrialization

To achieve the goals set for 2025, 2030 and 2045 as shown in the 13th Party Congress Resolution, a roadmap on industrial development needs to be designed in detail and implemented in a strict manner.
However, the documents presented at the 13th Party Congress noted that the country had not reached the goals in creating a foundation for turning Vietnam into an industrialised country towards modernity by 2020.
To achieve the goals set for 2025, 2030 and 2045 as shown in the 13th Party Congress Resolution, a roadmap on industrial development needs to be designed in detail and implemented in a strict manner.
Many industrial achievements belong to the foreign-invested sector as it makes up 50 percent of industrial production value and more than 70 percent of the country's export value.
In key industries such as electricity, electronics, textile and garment, and footwear, the number of foreign invested enterprsies (FIEs) accounts for only 20 percent of total enterprises, but makes up more than 80 percent of export turnover.
FIEs mostly operate in the downstream sector so as to take full advantage of preferential tariffs and low input costs, including a cheap labor force and low requirements on environmental and labor conditions.
Meanwhile, most industrial enterprises are still using out-of-date technologies, which are two to three generations behind the average level of the world. A report found that 76 percent of imported equipment, machines and production lines were made in the 1960s and 1970s, while 75 percent of equipment was fully depreciated and 50 percent was refurbished.
Vietnam's mechanical engineering, the mainstay of industrial production, especially precision engineering, is two to three generations behind other countries with 60-70 percent at a 1950s technology level.
With 15 FTAs, Vietnam is one of the top 10 most open economies. Vietnam is not only increasingly dependent on export markets (especially the large markets of the US, China, the EU, Japan and South Korea), but also technology and input materials for domestic production (the import of input materials account for about 90 percent of total import turnover).
Future plans
Asked about regrets during the 2016-2021 tenure, Anh said there was still dissatisfaction. He said the lack of cooperation among ministries and branches had hindered development.
Experts say Vietnam is in the transitional period from stage 1 to stage 2 in the 4-stage industrial development process, while the technology absorption level and production management skills are still low.
The transitional period has been going slowly. The link between FIEs with high technology and Vietnamese enterprises is loose. FDI's effects on Vietnam's economy remain modest. In other words, Vietnam still cannot take full advantage of FDI.
The economic structural transformation has proceeded thanks to FDI, not domestic capital and internal strength. The problem is that many leaders think the country's industrialization can succeed easily.
Experts warn that Vietnamese workers will only have opportunities to do simple outsourcing and assembly as the national economy is now fully integrated into the world, import tariffs have been cut to zero percent, Vietnam-made products are more expensive than imports, and domestic production relies on material imports and FIEs.
How will industrialization proceed on such a platform? Will Vietnamese people and enterprises still have opportunities to take part in the higher parts of the value chain? What policies should support them?
This will be a long process and issues need to be dealt with during the tenure of Minister Nguyen Hong Dien. As a minister means being a politician more than an expert, Dien is expected to successfully gather talented people and use opinions from different contingents of experts to design a roadmap for the country's successful industrialization. 
Tu Giang

After decades of development, HCM City, Vietnam's biggest growth engine, has found out that it has lagged behind not only regional metropolises but also some other big cities in Vietnam when it comes to the pace of growth.

In defiance of the health crisis hurting the domestic economy, Vietnam has earned international optimitism for its growth outlook on the back of the country's good control of COVID-19 leading to impressively positive growth last year.